Integrating with JazzHR : Setup and guide
The Hireflix integration with JazzHR will allow you to trigger one-way video interviews automatically in your JazzHR jobs. You can trigger the invites by moving candidates to a Workflow stage for which you have configured a Hireflix assessment. You can also trigger invites individually for an individual candidate from the assessment section of the candidate's profile.
Enabling the JazzHR and Hireflix integration
To enable the Integration takes 1 minute. It is all shown on the video above.
In order to see the Hireflix block on the integrations page, you need to first write to rsm@jazzhr.com telling them that you want our integration to be activated. After that, you will be able to follow all the steps showcased here:
Log in to your Hireflix account and navigate to Account > Integrations > JazzHR and activate the toggle button. Then, carefully follow the steps displayed.
Go to JazzHR > Settings > Integrations > Hireflix > More Details then click Connect and paste the API token in the pop-up that will open and click on "Save credentials"
Go back to Hireflix where you were seeing the integration steps and click "I have clicked "Saved credentials". Click "Finish" and you will be all set. 😊
Triggering invites from JazzHR
Once the JazzHR/Hireflix integration is enabled, you will then be able to invite candidates to the one-way video interview from within JazzHR. To do that, remember that you have to create the interview in Hireflix first.
Method 1: Inviting an individual candidate to an interview
This method will work as long as you have activated the integration following the steps above.
Go to the Assessments tab of a candidate profile, and click "Send Hireflix"

You will then be able to select which interview you want to send to the candidate. This dropdown shows all your OPEN positions from your Hireflix account.

You will see that the test has sent! Remember that in order for the test to send, you need to make sure your candidate notifications are properly configured in Hireflix.
You can only invite a candidate to an interview once. However you can invite a candidate to two different interviews with the same method above if you wanted to.
Method 2: Inviting several candidates to an interview at once
Sometimes it is super helpful to be able to invite several candidates at once to an interview. Below I will show you how to do it. This method will work as long as you have activated the integration following the steps above.
Step 1: Assigning an interview to a workflow stage (You only need to do this once per position)
Go to a JazzHR job, and click "Edit Job" and then go to Workflow
You can then add a Hireflix interview to whichever part of your workflow you prefer by clicking "Add" then clicking "Assessment"

Once you do this, you have to then Choose an email template. NOTE: This step is actually useless and the only reason is there is because JazzHR forces you to do it. It doesn't matter which email template you put here since the template WILL NOT launch anyway. Communications are managed from Hireflix. Below I pic the blank email template I created for Hireflix. If no templates appear you will have to create a blank template first.

This is the important step. Once the below window opens, you must make sure that Hireflix is selected as an assessment + then you can pick whichever interview you want to trigger for this stage in this particular position. The dropdown shows all OPEN interviews on your Hireflix account.

You will see that the assessment will now be added to that stage in the workflow!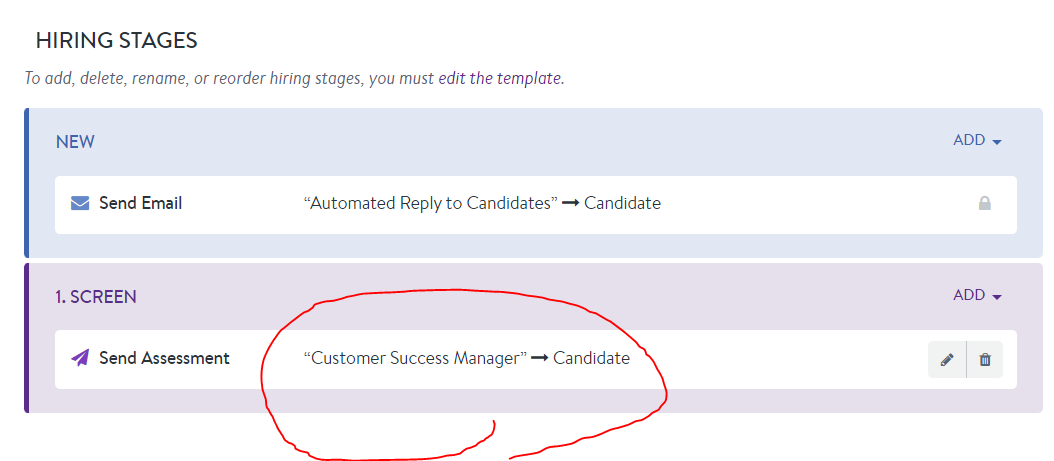 Step 2: Inviting candidates to the interview in bulk
Go to the position you need this for. Click Bulk Actions
Click "Change Status" and select whichever status for which you have configured the Hireflix Assessment workflow helper
It will then launch...
Reviewing responses once a candidate answers
Once a candidate finishes the interview, a link will automatically be copied to the candidate profile as below. You will be able to click the link and watch the interview straight away, without the need to login into Hireflix. That link expires in 75 days.
If you click "View details" you will see an additional link that never expires, but that does require you to login into Hireflix to be able to check it.
---
---