Integrating with Teamtailor: Setup and guide
The Hireflix integration with Teamtailor will allow you to trigger one-way video interviews automatically in your Teamtailor jobs. As soon as you move a candidate (or many) to a stage with a Hireflix trigger assigned, they will be automatically invited to a one-way video interview.
Enabling the Teamtailor and Hireflix integration
To enable the Integration takes 1 minute. It is all shown on the video above.
Log in to your Hireflix account and navigate to Account > Integrations > Teamtailor and activate the toggle button. Then, carefully follow the steps displayed.
Go to Teamtailor > Marketplace > Video Interviews > Hireflix and click "Activate". Then it should automatically redirect you to Settings > Hireflix where you will be able to click "Finish Installation" and then copy your API Key.
Go back to Hireflix where you were seeing the integration steps and click "I have clicked "Finished Installation" and then copy the API Key on the field provided.
Click "Finish" and you will be all set. 😊
Managing and syncing positions
Once the Teamtailor/Hireflix integration is enabled, you will then be able to connect Teamtailor Jobs to whichever Hireflix interview you want. Remember that to do that, you have to create the interview in Hireflix first.
Step 1: Adding the Hireflix trigger to your Teamtailor position
Go to a Teamtailor job, and click "triggers".

Click "Add trigger in whichever stage you want to add the Hireflix interview"

Select the "Invite to a Hireflix Interview" trigger

And now pick which interview you want candidates on that stage to receive. The dropdown will show the interviews you created in Hireflix.

Once done, click "Add trigger" and you will be all set. Now, whenever a candidate in the Sales Development Manager position is put on the Interview stage, a Hireflix interview will trigger.
Step 2: Inviting Candidates to the interview
As shown in the video above, once the trigger has been configured you just need to put the candidate on the trigger stage, and the interview will send. You can activate bulk selection (the icon next to the triggers icon) in order to shift many candidates at once to the interview trigger stage.

Step 3: Reviewing the responses once a candidate finishes the interview
Once a candidate finishes the interview, a link will automatically be copied to the candidate profile as below. You will be able to click the link and watch the interview straight away, without the need to login into Hireflix. That link expires in 75 days.
If you click "View details" you will see an additional link that never expires, but that does require you to login into Hireflix to be able to check it.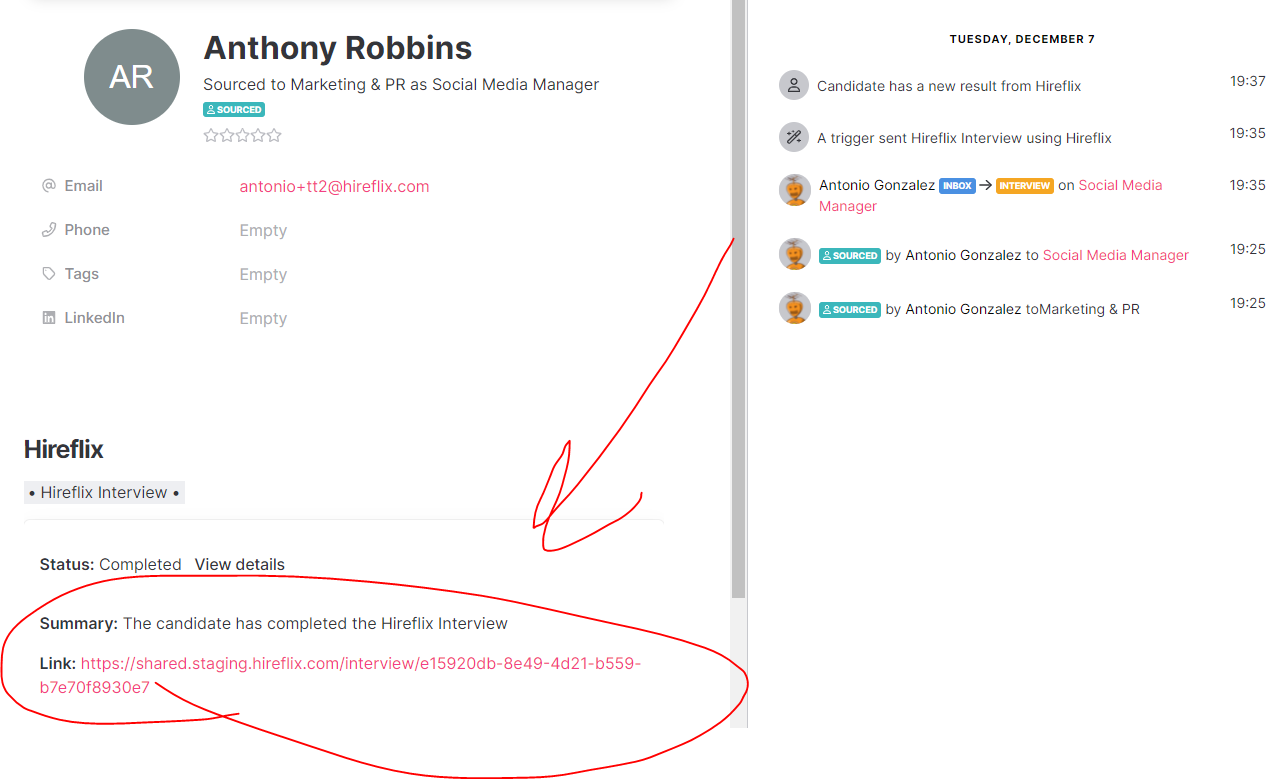 ---
---